PTO Meeting
December Calendar of Events
PTO Meeting/ Junta de PTO- November 27, 2023 5:30-6:30
November Calendar of Events/ Eventos en noviembre
Fifth graders interested in joining the boys soccer and girls basketball elevate teams, please register by deadline. Los estudiantes de quinto grado interesados ​​en unirse a los equipos elevados de fútbol y baloncesto , deben registrarse antes de la fecha límite.
Congratulations to both our football and volleyball teams for doing an extraordinary work on their games!¡Felicidades a nuestros equipos de fútbol y voleibol por hacer un trabajo extraordinario en sus juegos!
October Calendar of Events
Join us for 3rd- 5th grade Curriculum Night and Science Fair Night.
Book Fair Week is October 30-November 3
Join us Friday, September 29 for our McAllen kids marathon kick off celebration! Sanchez Scholars can dress up in their favorite super hero costume/shirt or come dressed with a Sanchez shirt! We will all walk together as a campus .
There's a lot of great events going on in September. Hay muchos eventos fantásticos en septiembre.
Grandparents, come join us for a special event on September 8th . Abuelos, únanse a nosotros para un evento especial el 8 de septiembre.
Support our chess team and purchase this awesome spirit shirt. Apoya a nuestro equipo de chess y compra esta increíble camiseta.
Rowe is ready to host our 5th grade Scholars for Elevate Volleyball/Football camp! Please see attached photos to register! Deadline is approaching!
Can't wait to see you on our first day of school. Remember, time starts at 7:45 AM-3:30 PM.
The Boys and Girls Club will be open for all students on May 1, 2023. You do not need to be a registered member to attend. May 1st only.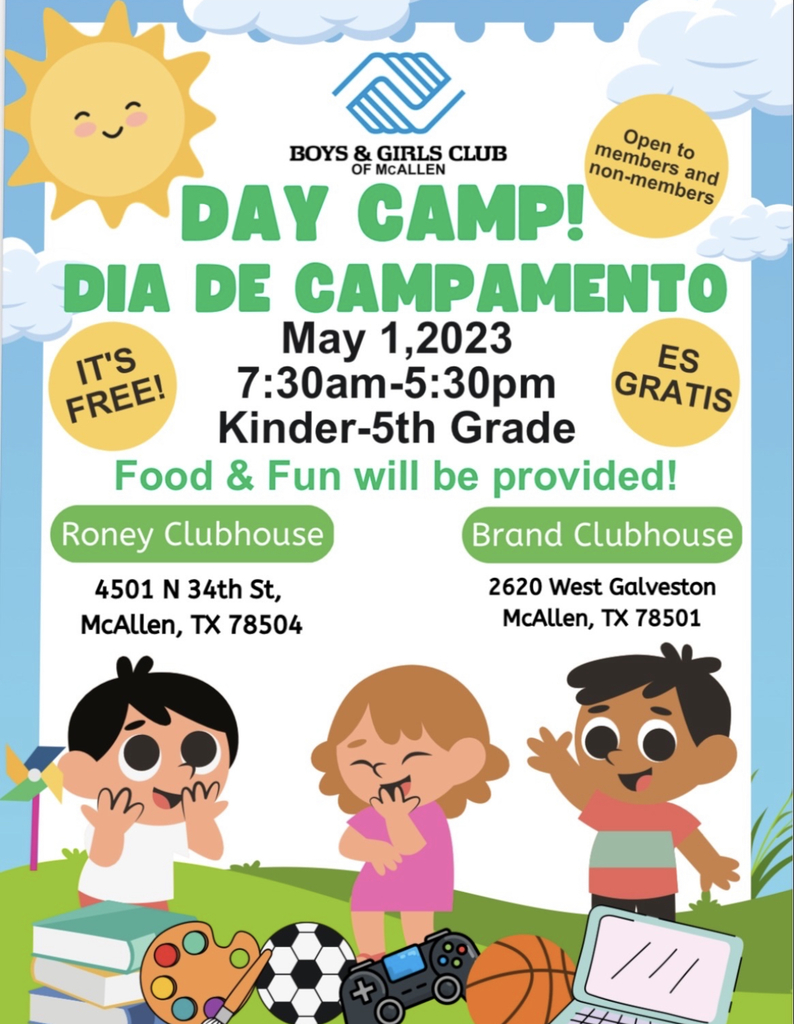 It's that time of the year! Join us at Open House on Tuesday, February 28th. ¡Es esa época del año! Únase a nosotros en Open House el martes 28 de febrero.
Last chance to order the yearbook! Deadline has been extended to Friday, February 24, 2023.
¡Acompañenos!